The Progressive Socialist Democrat
Socialist Democrats love their country, believe in a National Health Care System, free education and Social Services for all its citizens not just a select few. A Nation that puts People over Corporate Greed and Profit. A Nation that also understands freedom of Religion or no Religious beliefs are a persons right. We are the Party of the Working Class, the Poor and Downtrodden. The Party of Unionism and fare and equal work rights for all hard working Americans.
Saturday, March 14, 2015
Sheriffs and advocates are divided on whether that's a good idea.
Sep. 8, 2013
Here's some news that has law enforcement officials and lawmakers scratching their heads:
Iowa is granting permits to acquire or carry guns in public to people who are legally or completely blind.
No one questions the legality of the permits. State law does not allow sheriffs to deny an Iowan the right to carry a weapon based on physical ability.
The quandary centers squarely on public safety. Advocates for the disabled and Iowa law enforcement officers disagree over whether it's a good idea for visually disabled Iowans to have weapons.
On one side: People such as Cedar County Sheriff Warren Wethington, who demonstrated for the Register how blind people can be taught to shoot guns. And Jane Hudson, executive director of Disability Rights Iowa, who says blocking visually impaired people from the right to obtain weapon permits would violate the Americans with Disabilities Act. That federal law generally prohibits different treatment based on disabilities.
On the other side: People such as Dubuque County Sheriff Don Vrotsos, who said he wouldn't issue a permit to someone who is blind. And Patrick Clancy, superintendent of the Iowa Braille and Sight Saving School, who says guns may be a rare exception to his philosophy that blind people can participate fully in life.
Private gun ownership — even hunting — by visually impaired Iowans is nothing new. But the practice of visually impaired residents legally carrying firearms in public became widely possible thanks to gun permit changes that took effect in Iowa in 2011.
"It seems a little strange, but the way the law reads, we can't deny them (a permit) just based on that one thing," said Sgt. Jana Abens, a spokeswoman for the Polk County sheriff's office, referring to a visual disability.
Polk County officials say they've issued weapons permits to at least three people who can't legally drive and were unable to read the application forms or had difficulty doing so because of visual impairments.
And sheriffs in three other counties — Jasper, Kossuth and Delaware — say they have granted permits to residents who they believe have severe visual impairments.
"I'm not an expert in vision," Delaware Sheriff John LeClere said. "At what point do vision problems have a detrimental effect to fire a firearm? If you see nothing but a blurry mass in front of you, then I would say you probably shouldn't be shooting something."
One county sheriff shows how to train visually impaired
In one Iowa county, blind residents who want weapons would likely receive special training.
Wethington, the Cedar County sheriff, has a legally blind daughter who plans to obtain a permit to carry when she turns 21 in about two years. He demonstrated for the Register how he would train blind people who want to carry a gun.
"If sheriffs spent more time trying to keep guns out of criminals' hands and not people with disabilities, their time would be more productive," Wethington told the Register as he and his daughter took turns practice shooting with a semi-automatic handgun on private property in rural Cedar County.
The number of visually impaired or blind Iowans who can legally carry weapons in public is unknown because that information is not collected by the state or county sheriffs who issue the permits.
The Register became aware that a handful of Iowans with visual impairments can carry weapons in public because county sheriffs and their staffs recalled issuing those permits. Sheriff officials in most of the cases said they were uncertain about the extent of the visual impairments.
Clancy, superintendent of the Iowa Braille and Sight Saving School, said the range of sight among people who are classified as legally blind varies greatly. He believes there are situations where such applicants can safely handle a gun.
However, he also expressed concerns.
"Although people who are blind can participate fully in nearly all life's experiences, there are some things, like the operation of a weapon, that may very well be an exception," Clancy said.
It's an issue that musician Stevie Wonder, who has been blind since birth, called attention to in January.
"Imagine me with a gun. It's just crazy," Wonder told CNN while calling for reforms to what he has previously called "ridiculous" gun laws.
Some states do consider vision in issuing permits
The Gun Control Act of 1968 and other federal laws do not prohibit blind people from owning guns. But unlike Iowa, some states have laws that spell out whether visually impaired people can obtain weapon permits.
Vision requirements are either directly or indirectly part of the weapon permit criteria in some surrounding states.
In Nebraska, for example, applicants for a permit to carry a concealed handgun must provide "proof of vision" by either presenting a valid state driver's license or a statement by an eye doctor that the person meets vision requirements set for a typical vehicle operator's license.
Other states have indirect requirements that could — but don't automatically — disqualify people who are blind. That includes Missouri and Minnesota, where applicants must complete a live fire test, which means they have to shoot and hit a target.
A 50-state database of gun permit requirements published by USACarry.com also shows that South Carolina has a law that requires proof of vision before a person is approved for a weapons permit.
Wisconsin, like Iowa, has no visual restrictions on gun permit applicants. Illinois lawmakers enacted a concealed weapons law in July, but permits have not yet been issued.
Illinois' qualifications don't specifically require a visual test, but applicants must complete firearms training that includes range instruction.
The National Federation of the Blind does not track states that require vision tests as part of weapon permit processes and has not taken an official stand on the issue. But its members are generally opposed to such laws, said Chris Danielsen, director of public relations for the group.
"There's no reason solely on the (basis) of blindness that a blind person shouldn't be allowed to carry a weapon," Danielsen said. "Presumably they're going to have enough sense not to use a weapon in a situation where they would endanger other people, just like we would expect other people to have that common sense."
Iowa requires training for anyone who is issued a permit to carry a weapon in public, but that requirement can be satisfied through an online course that does not include any hands-on instruction or a shooting test.
A provision in Iowa's law allows sheriffs to deny a permit if probable cause exists to believe that the person is likely to use the weapon in such a way that it would endanger himself or others.
Many sheriffs noted, however, that the provision relates to specific documented actions, and applicants who appealed their cases would likely win.
Vrotsos, the Dubuque County sheriff, did not know whether any blind people had applied for permits in his county, but said he wouldn't hesitate to deny them.
"We do not track these applicants, but ... if I knew the person was blind ... a permit would not be issued, and this person would then have the right to appeal," Vrotsos said.
But Hudson, executive director of Disability Rights Iowa, believes changing the state law to deny blind people or others with physical disabilities the right to carry arms would violate federal disability law.
Part of the Americans with Disabilities Act requires a public entity to conduct an individualized analysis to make a reasonable judgment before denying a service. Hudson believes someone could successfully challenge Nebraska's proof of vision requirement as illegal.
"The fact that you can't drive a car doesn't mean you can't go to a shooting range and see a target," Hudson said.
Other issues cited by Iowa sheriffs
The Des Moines Register earlier this year published reports about Iowa's 2011 law that requires sheriffs to adopt uniform standards in issuing permits to carry weapons in public. Read about issues cited by Iowa sheriffs, such as gaps in their ability to search a person's background for mental health problems and their inability to deny permits to sex offenders. Find complete coverage at
DesMoinesRegister.com/gunpermits.
Wednesday, December 10, 2014
Only a government that lives like cockroaches in the darkness would pass a law criminalizing the act of turning on the light.

Illinois — In March of this year the Illinois Supreme Court struck down the state's eavesdropping law, and rightfully so, as it was touted as the most unconstitutional law of its kind in the country.
But Illinois, being the the corrupt and violent police state that it is, couldn't let their police and other government officials be held accountable by its citizens.

The bill is back, and with a vengeance.
The Amendment to Senate Bill 1342 was introduced on Tuesday, Dec. 2, as an amendment to an existing bill on a completely different subject. The amendment removed all of the bill's previous content and replaced it with the new ban on recording. The House passed it the following day, and the Senate passed it the day after that.
This bill passed both the Illinois House and Senate with overwhelming majority votes; 106-7 in the House on and 46-4-1 in the Senate. Democrats and Republicans alike slipped this bill by the citizens as they were debating on whether the General Assembly would raise the state's minimum wage or make the 67% temporary income tax hike permanent, neither of which passed.
According to IllinoisPolicy.org, the bill discourages people from recording conversations with police by making unlawfully recording a conversation with police – or an attorney general, assistant attorney general, state's attorney, assistant state's attorney or judge – a class 3 felony, which carries a sentence of two to four years in prison. Meanwhile, the bill makes illegal recording of a private citizen a class 4 felony, which carries a lower sentencing range of one to three years in prison.
There's only one apparent reason for imposing a higher penalty on people who record police in particular: to make people especially afraid to record police. That is not a legitimate purpose. And recent history suggests it's important that people not be afraid to record police wherever they perform their duties so that officers will be more likely to respect citizens' rights, and officers who do respect citizens' rights will be able to prove it.
Below is some of the vague wording from this legislation.

(a) Eavesdropping, for a first offense, is a Class 4 felony (from Ch. 38, par. 14-4) and, for a second or subsequent offense, is a Class 3 felony.
(b) The eavesdropping of an oral conversation or an electronic communication of any
law enforcement officer, State's Attorney, Assistant State's Attorney, the Attorney General, Assistant Attorney General, or a judge, while in the performance of his or her official duties, if not authorized by this Article or proper court order, is a Class 3 felony, and for a second or subsequent offenses, is a Class 2 felony
The wording in this bill is also written in such a way that it could stifle the recent police accountability measures of body cameras. Police may argue that using body cameras to record encounters with citizens outside of "public" places would violate the law, as citizens have not consented to being recorded.

Only a government that lives like cockroaches in the darkness would pass a law criminalizing the act of turning on the light.
Transparency and accountability in government are what prevent tyranny. When the state passes laws which prevent these things, the direction in which they are trying to move is obvious.
Other than a few small media outlets covering this blow to free speech, the MSM has been largely silent. Please help expose it, by sharing this story to expose this horrible blow to government accountability.


We can also stop this bill by calling the office of Illinois governor, Pat Quinn, at 312-814-2121, and demand that he veto the Amendment to Senate Bill 1342. Or you can email him at this link.

Update: Dec. 10 10:36 am:
This story has caused quite the stirring conversation out there on the web. Some media outlets are reporting that it doesn't make recording police officers illegal, while others are corroborating our report.
The legislation clearly states, as we show above, that recording any law enforcement or government official during any private communication will be considered eavesdropping; a felony, punishable by jail time.
Private communication is defined in the legislation as such:

For the purposes of this Article, "private conversation" means any oral communication between 2 or more persons, whether in person or transmitted between the parties by wire or other means, when one or more of the parties intended the communication to be of a private nature under circumstances reasonably justifying that expectation.
Reasonable expectation is defined in the legislation as such:

A reasonable expectation shall include any expectation recognized by law, including, but not limited to, an expectation derived from a privilege, immunity, or right established by common law, Supreme Court rule, or the Illinois or United States Constitution.
The problem arises when we try to define reasonable expectation, it is left up to arbitrary interpretation. As per the legislation: any police officer, at any time, in Illinois can simply say they have a reasonable expectation of privacy and therefore charge a person filming with a felony.
It would be particularly naive, especially when looking at their recent history of doing so, for anyone to assume that Illinois police would not use this bill to arrest people who film them.
There is however, a simple fix to this problem of a vaguely defined law and that is to clearly define it. Add a line which clearly states that "filming police in public is a constitutionally protected right and cannot be infringed."
My question is what do the Police have to hide?
Tuesday, December 9, 2014
Report released by Senate after four-year, $40m investigation concludes CIA repeatedly lied about brutal techniques in years after 9/11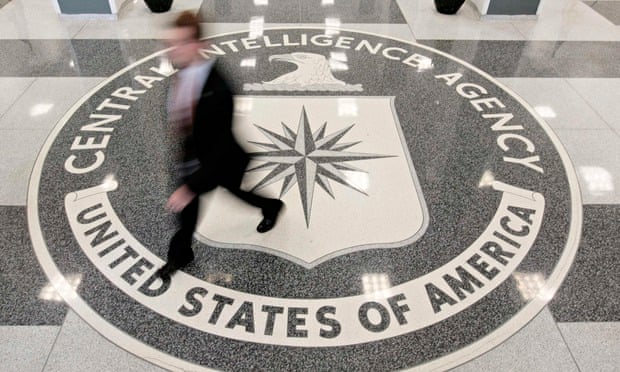 CIA headquarters in McLean, Virginia. The majority of the 6,000-page classified torture report remains classified. Photograph: Larry Downing/Reuters
The CIA's post-9/11 embrace of torture was brutal and ineffective – and the agency repeatedly lied and misled the White House, Congress and the public about its usefulness, a milestone report by the Senate intelligence committee released on Tuesday concludes.
The methods of torture carried out by the
CIA
were even more extreme than what it portrayed to the George W Bush
administration
and went beyond techniques already made public through a decade of leaks and lawsuits, which had revealed that agency interrogators subjected detainees to the quasi-drowning known as waterboarding, staged mock executions and revved power drills near their heads.
At least 39 detainees experienced techniques like "cold water dousing", which the Justice Department never approved, the committee found. It also found cases of "rectal rehydration" and "rectal feeding" – the "lunch tray" for one detainee, which contained hummus, pasta with sauce, nuts and raisins, "was 'pureed' and rectally infused", the report says. One detainee whose rectal exam was conducted with "excessive force" was later diagnosed with chronic hemorrhoids, anal fissures and rectal prolapse. Investigators also documented death threats made to detainees. And CIA interrogators, the committee charged, told detainees they would hurt detainees' children and "sexually assault" or "cut a [detainee's] mother's throat".
After examining 20 case studies, the investigators found that torture "regularly resulted in fabricated information", said committee chairwoman
Dianne Feinstein
, in a statement summarizing the findings. She called the torture program "a stain on our values and on our history".
"During the brutal interrogations the
CIA
was often unaware the information was fabricated." She told the Senate the torture program was "morally, legally and administratively misguided" and "far more brutal than people were led to believe".
Advertisement
At least 17 detainees were tortured without the approval from CIA headquarters that ex-director George Tenet assured the DOJ would occur. And at least 26 of the CIA's estimated 119 detainees, the committee found, were "wrongfully held."
Contractor psychologists James Mitchell and Bruce Jessen played a critical role in establishing the torture program in 2002. A company they formed to contract their services to the CIA was worth more than $180m, and by the time of the contract's 2009 cancellation, they had received $81m in payouts.
The committee's findings, which the CIA largely rejects, are the result of a four-year, $40m investigation that plunged relations between the spy agency and the Senate committee charged with overseeing it to a historic low.
The investigation that led to the report, and the question of how much of the
document
would be released and when, has pitted chairwoman Feinstein and her committee allies
against the CIA and its White House backers
. For 10 months, with the blessing of President Barack Obama, the agency has fought to conceal vast amounts of the report from the public, with an entreaty to Feinstein from secretary of state John Kerry occurring as recently as Friday.
Republican House intelligence committee chairman Mike Rogers warned America's allies were predicting its release would "cause violence and deaths". After publication Rogers said: "Though it is wholly appropriate for the congressional intelligence committees to conduct rigorous review of classified
programs
, I fear that publicizing the details of this classified program – which was legal, authorized, and appropriately briefed to the intelligence committees – will only inflame our enemies, risk the lives of those who
continue
to sacrifice on our behalf, and undermine the very organization we continuously ask to do the hardest
jobs
in the toughest places."CIA director John Brennan, an Obama confidante, conceded in a Tuesday statement that the program "had shortcomings and that the agency made mistakes" owing from what he described as unpreparedness for a massive interrogation and detentions program.
But Brennan took issue with several of the committee's findings.
"Our review indicates that interrogations of detainees on whom EITs were used did produce intelligence that helped thwart attack plans, capture terrorists, and save lives. The intelligence gained from the program was critical to our understanding of al-Qaida and continues to inform our counterterrorism efforts to this day," Brennan said.
"EITs", or "enhanced interrogation techniques", is the agency's preferred euphemism for torture.
International condemnation was swift. Ben Emmerson, the United Nations rapporteur for counter-terrorism, commended the White House for resisting pressure not to publish the report but said action must now be taken.
"The individuals responsible for the criminal conspiracy revealed in today's report must be brought to justice, and must face criminal penalties commensurate with the gravity of their crimes. The fact that the policies revealed in this report were authorised at a high level within the US government provides no excuse whatsoever. Indeed, it reinforces the need for criminal accountability," he said.
Obama banned CIA torture upon taking office, but the continuing lack of legal consequences for agency torturers has led human rights campaigners to view the Senate report as their last hope for official recognition and accountability for torture.
Though the committee released hundreds of pages of declassified excerpts from the report on Tuesday, the majority of the 6,000-plus page classified version remains secret, disappointing human rights groups that have long pushed for broader transparency. Senator Mark Udall, a Colorado Democrat who lost his seat in November, has flirted with reading the whole report into the Senate record, one of the only tactics to compel additional disclosures remaining.
Senate majority leader Harry Reid weighed in to back the report. "Today, for the first time, the American people are going to learn the full truth about torture that took place under the CIA during the Bush administration," Reid said on the Senate floor. "The only way our country can put this episode in the past is to confront what happened."
"Not only is torture wrong but it doesn't work," said Reid. He said torture "got us nothing except a bad name".
But Republican members of the intelligence committee questioned the report in their own 100-page document. They wrote "procedural irregularities" had negatively impacted the study's "problematic claims and conclusions" and accused Democrats of bias and faulty analysis.
The Republicans specifically disputed the report's claim that torture had failed to provide actionable intelligence and claimed "aggressive" interrogation of Zubaydah led to the capture of al-Qaida associates and the disruption of a plot plot aimed at hotels in Karachi, Pakistan, frequented by American and German guests.
In a statement, James Clapper, director of national intelligence, said he could not recall a report "as fraught with controversy and passion as this one".
He said the officers who participated in the program "believed with certainty that they were engaged in a program devised by our government on behalf of the president that was necessary to protect the nation, that had appropriate legal authorization, and that was sanctioned by at least some in the Congress." But he said "things were done that should not have been done".
"I don't believe that any other nation would go to the lengths the United States does to bare its soul, admit mistakes when they are made and learn from those mistakes. Certainly, no one can imagine such an effort by any of the adversaries we face today," said Clapper.
BEFORE President George W. Bush left office, a group of conservatives
lobbied
the White House to grant pardons to the officials who had planned and authorized the United States torture program. My organization, the American Civil Liberties Union, found the proposal repugnant. Along with eight other human rights groups, we sent a letter to Mr. Bush arguing that granting pardons would undermine the rule of law and prevent Americans from learning what had been done in their names.
But with the
impending release
of the report from the Senate Select Committee on Intelligence, I have come to think that President Obama should issue pardons, after all — because it may be the only way to establish, once and for all, that torture is illegal.
My organization and others have spent 13 years arguing for accountability for these crimes. We have called for the appointment of a special prosecutor or the establishment of a truth and reconciliation commission, or both. But those calls have gone unheeded. And now, many of those responsible for torture can't be prosecuted because the statute of limitations has run out.
To his credit, Mr. Obama
disavowed torture
immediately after he took office, and his Justice Department withdrew the memorandums that had provided the foundation for the torture program. In a
speech
last year at the National Defense University, Mr. Obama said that "we compromised our basic values — by using torture to interrogate our enemies, and detaining individuals in a way that ran counter to the rule of law."
But neither he nor the Justice Department has shown any appetite for holding anyone accountable. When the department did conduct an investigation, it appeared not to have interviewed any of the prisoners who were tortured. And it repeatedly abused the "state secrets" privilege to derail cases brought by prisoners — including Americans who were tortured as "enemy combatants."
What is the difference between this — essentially granting tacit pardons for torture — and formally pardoning those who authorized torture? In both cases, those who tortured avoid accountability.
But with the tacit pardons, the president leaves open the very real possibility that officials will resurrect the torture policies in the future. Indeed, many former C.I.A. and other government officials continue to insist that waterboarding and other forms of torture were lawful. Were our military to capture a senior leader of the Islamic State who was believed to have valuable information, some members of Congress would no doubt demand that our interrogators use precisely the barbaric and illegal methods that the Obama administration has disavowed.
The Obama administration could still take measures to hold accountable the officials who authorized torture. Some of the statutes of limitations have run out, but not all of them have. And the release of the Senate's report provides a blueprint for criminal investigations, even if that's not what the intelligence committee set out to do.
While the idea of a pre-emptive pardon may seem novel, there is precedent. Presidents Abraham Lincoln and Andrew Johnson pardoned Confederate soldiers as a step toward unity and reconstruction after the Civil War. Gerald R. Ford
pardoned Richard M. Nixon
for the crimes of Watergate. Jimmy Carter pardoned Vietnam War draft resisters.
The spectacle of the president's granting pardons to torturers still makes my stomach turn. But doing so may be the only way to ensure that the American government never tortures again. Pardons would make clear that crimes were committed; that the individuals who authorized and committed torture were indeed criminals; and that future architects and perpetrators of torture should beware. Prosecutions would be preferable, but pardons may be the only viable and lasting way to close the Pandora's box of torture once and for all.